Personalised Treatment Plan
Your own personalised treatment plan which can be shared with your therapist and GP with your consent to enable effective and collaborative care.
Antidepressants
Antidepressants help treat symptoms of depression and anxiety. Antidepressants can also help with conditions like obsessive compulsive disorder (OCD), chronic pain, and Post-Traumatic Stress Disorder (PTSD).
There are various types of antidepressants, and each of them function differently from the other. Antidepressants may have side effects, and these may include:
Gut-related such as indigestion, stomach upset, bowel disturbances, appetite changes,

Sleep disturbances,

Reduced sex drive,

Headache, or jitteriness,
Weight gain,

Blurring of vision,

Drowsiness in the day and,

Heart rhythm issue.
Depending on your body's reaction to the medicine, some of these side effects will be experienced more than others. Additionally, adolescents and young people using antidepressants should be monitored closely as some may have increased suicidal thinking though no increased acts of suicide.
Anti-depressants can be effectively used alone or in combination with psychotherapy.
Your psychiatrist is here to journey with you to develop your individual treatment plan. Speak with us at Otium.
Antipsychotic Medications
Antipsychotics greatly reduce the symptoms in psychosis. They are also effective in depression. Antipsychotic works by influencing dopamine in the brain which is a neurotransmitter implicated in psychosis. Antipsychotics may be broadly categorized into first generation (or typical) and second generation (or atypical) groups and have almost similar side effect profiles. These side effects may include involuntary movements of the arms, legs or mouth, drowsiness, weight changes and heart rhythm issues.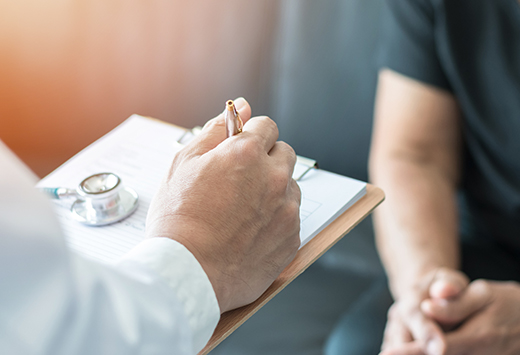 Mood Stabilizers
Lithium is available in tablet form and is an effective medicine for bipolar mood disorder. It can also be used to strengthen antidepressant effect to overcome severe major depression.
Being an ionic salt, Lithium is primarily removed by the kidneys so keeping hydrated is important when using this medication. Long-term use of lithium may work the kidneys and thyroid harder so the psychiatrist is responsible for monitoring the kidney, thyroid, and heart functions and will be performing regular checks for these. For ladies who may be planning to have children, the use of lithium may cause problems during conception and pregnancy, hence alternative treatment will be discussed with your psychiatrist to ensure a safe pregnancy and effective management of your mental health.
Valproate (or Epilim) is available in both tablet and liquid form and is also an effective medicine for bipolar mood disorder. Valproate can also be combined with antidepressant therapy to help with mood regulation. Valproate is broken down and removed from the body by the liver. The psychiatrist who prescribes this must ensure that regular health checks are in place and look out for possible drug interaction with other medications. There are possible side effects such as weight gain, hand tremors, low platelet count or hair loss. Similarly, valproate may cause problems for unborn babies; hence your psychiatrist will develop a personalized treatment plan to ensure maximal safety and success during your pregnancy.
Talking therapy is delivered by qualified and specially trained professionals to help you make changes in how you think, how you feel and to make sense of things around you to help with relieving your symptoms of anxiety, mood, and negative thinking pattern. Evidence has shown there are enduring positive effects from undergoing psychotherapy and it may be just as effective as medication, if not more.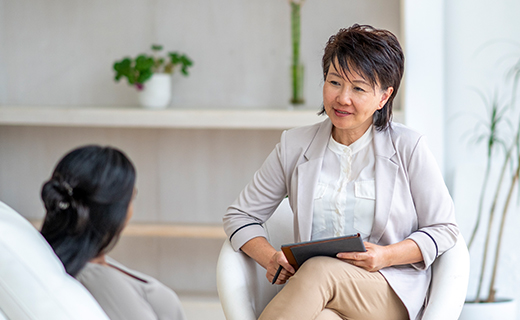 Cognitive Behavioural Therapy Or CBT
Cognitive Behavioural Therapy is one of many "talking therapies" or psychotherapy. CBT has shown good evidence in helping those of you with anxiety, phobias, depression, and obsessive-compulsive disorder. It focuses on what you think about, how you feel after, and how these thoughts and feelings can affect your behaviours.
Otium partners with clinical psychologists to provide CBT which may comprise of six or more sessions to learn more positive and healthier ways to think and feel, and to extinguish unhelpful thoughts and actions.
Psychodynamic Psychotherapy
Psychodynamic type or "Freudian" therapy examines how your childhood, and the past may influence and affect your present state though unconscious or conscious mechanisms.
Through skillful interpretations and reflective exchanges with a trusted and trained therapist, working through these sessions can help explain the connections and enable you to change for the better.
Other Specialized Treatment
Neurostimulation Therapy (ECT, TMS)
Electroconvulsive Therapy or ECT is a mental health treatment option to help achieve symptom control rapidly in the safest manner for severe conditions such as depression, bipolar disorder, and schizophrenia.
Anaesthesia is provided during the procedure before receiving stimulation with small electrical pulses to induce seizure. ECT has been demonstrated to be effective and works well with other modes of treatment such as medication and psychotherapy.
Transcranial Magnetic Stimulation or TMS is another treatment option aimed to relieve symptoms of depression and obsessive-compulsive disorder. TMS does not require any anaesthesia and uses a special coil to induce magnetic fields targeted at specific areas over the head. You are seated comfortably during the session which lasts about twenty to thirty minutes.